After spending about two hours in the car rental village at Stansted airport due to unexpected cancellation and systems being down we finally get a car. The first drive out on "the wrong side of the street" makes my heart beat a bit faster than usual. However, after a while it makes sense and I stop gasping every time we make a turn. My travel companion, who is Australian, handels it just great being used to left traffic both in Australia and having lived in England.
Our first stop is Thame aka Causton from the very famous series with the "cute" murders, Midsomer Murders. On a Sunday the village is rather sleepy and we don't spot one single little kill during the hour we spend there. However we followed a recommendation from a local man who spotted our touristy flickering eyes and sent us to The Birdcage, an old pub with award winning pies. The pub is very nice, the pies not as much. But at least ateable and with the feeling of "real British" we feel satisfied anyway.
We head over to Oxford for a quick stop. During that one hour we never get rid of the cathedral bells ringing in our ears everywhere we go. Charming for a while. Tiering after a longer while. Oxford is pretty much as you imagine. Full of knowledge thirsty students with high ambitions and tourists with the ambitions of seeing as much as possible as quick as possible. The hustle and bustle is just enough to really long for the quiet countryside. We head off to the Cotswolds. After finding our way in on some smaller roads we drive in to the village of Bibury. The cuteness is overwhelming. We have to stop. We park and walk into the church where two men welcome us in to look at the art and flowers. I love flowers, but I love coffee more. Two older ladies sell brewed coffee and homemade cakes in the corner of the church. I instantly walk over and ask what cake is the best and most British I could get. I get the Victoria sponge, coffee and a delightful conversation between the locals as an extra treat. I must say, even if Bibury might be a sleepy little village it must be wonderful to grow old in and I can't help imagine myself there in 40 years.
Right when we think we have seen Bibury and are about to drive to the next stop, wherever that might be, we stop again after about 200 meters by a wooden bridge that leads over the narrow river to a street of old stone houses. In fact, pretty much every house on the entire trip is made of stone. Not like the wooden red and white houses I am more used to in Sweden. This is Arlington Row, one of the most photographed places in the Cotswolds and the set for a scene in the movie Stardust.
After about 30 more minutes we are finally on our way on narrow, winding roads to the city of Bath and our hotel for the night. We decided to book the first night being afraid of being too tired to search for a b&b after getting up at 3:30 to catch the flight. We first miss the road to Combe Manor which is hidden around a corner on a winding street above Bath. Second time we make it after nearly missing it again. The place we arrive to could be taken straight out of Alice in Wonderland. The views, the interior, the crocket poles in the shape of flamingos, the tea room and the rabbits running around everywhere as being in a hurry for tea. Everything about Britain so far could have been taken from different fairytales.
Combe Manor is also a country club with a tennis court, driving range and two pools on the grounds. This together with a nice selection of food at reasonable prices little is left to ask for, except for the beds which quickly throw me in to the story of The Princess and the Pea except this bed could have been made of just peas… or rocks. Every spring sticks into my back. I decide to lie on the duvet to soften the brutalness of the bed. Even though a comfortable bed is of big importance the hotel is so nice that we decide to stay another night.
The next day we go for a ten minute drive which takes us to a farm shop I have found online. Hartley Farm has everything you can ask for in a farm shop together with a great café. I buy locally produced products for about 30 quid and I happily pay. The farm is so inviting that if I ate meat, this would definitely be the place to do it.
After the most undramatic accident where a man has collapsed in the shop, maybe due to the heat (it is 27 degrees celsius and full on sun), we head on to Bath.
Bath is a beautiful city with the old Roman baths as their number one attraction. Unfortunately I decide to not bring my camera as I want to stroll around and enjoy without feeling the pressure of snapping a good shot. Just trust my words when I say Bath is well worth a visit, or two, if you are close by.
Next day we decide to drive pass Glastonbury, where the world famous music festival took place two months earlier. If Oxford had students with high ambitions, Glastonbury has a population of locals with the ambition of getting high. We land in full on hippie central. Colourful and friendly, Glastonbury is the home of witchcraft and stories well beyond Harry Potter and worth a visit whether you are into this or not.
Next stop is Clovelly. This is yet another fairytale. A village you enter through a giftshop, not too far from a magic closet really. No cars are allowed in here, fact is no cars can drive in the village where there is basically just one steep cobbled street. Some years ago donkeys took the locals groceries down the hill but since a few years it has been considered animal cruelty, why the donkeys now are left with nothing to do. It will cost you 7 pounds to enter Clovelly, to help make sure the village stays the way it is, but if you stay over you get the money back. That making it very reasonable to stay at The New Inn b&b. After 6:30 P.M the village is "closed". It is only locals and people staying in the Inn or at the hotel down by the water that remain in the village. But it almost feels like we are alone. We take an evening walk down to the water where the tide has been cruel to some of the ocean living creatures not fast enough to escape. The water is boiling with fish seeking shelter and a boy stands on the pier fishing in hope to catch dinner for a few days. He say he has caught two so far.
– I want the mackerels. I get others but I throw them back.
We ask if he has lived in the village all his life and if there are any other kids for him to play with.
– I grew up here. My grandfather was a fisherman. But is has died out.
He is silent for a while to concentrate on the next throw.
– There used to be more kids. But is has dies out, he says in a calm voice.
In a way it feels a bit sad but the fact is that the village seems to survive anyway. There is one family that owns everything and it has only been three families so far since the 1300's (Clovelly was mentioned in the Domesday Book in 1086). To rent a house here one has to come on a longer stay to see the ups and downs with the village.
– If you want to buy a couch, you have to get it down yourself, a local tells us. Not the easiest task on a steep cobble street.
I meet a woman and one of her owls, named Merlin (I guess one of her others was already called Archimedes) outside of the bed & breakfast. She charges 1 Pound to hold her little darling and I can't resist. She needs to make her living too and I think she has found something that works well in the village of Clovelly where everything, for understandable reasons, seems to have frozen in time.
After a quick visit to Hartland Abbey meeting the nicest of people and almost staying for the David Walliams play "Rat Burger" later in the evening, we head towards Tintagel Castle, famous for, according to legend, being the birthplace of King Arthur. (Tintagel, aka Terrabil said to have been home of Arthur's mother Igraine, her daughter Morgana Le Fay (father Gorlois) and Arthur's father Uther Pendragon who with Merlins help took the shape of Gorlois to be with Igraine.)
Moving forward on our fairytale trip through the landscapes of the legend of King Arthur, Merlin and Excalibur we start off with taking the wrong way from Hartland. But this and not really having a plan set in stone (pun somewhat intended) turns out to be the best of plans. We stop at a farm shop in Boscastle (a village where parts of From Hell was filmed) to get me my caffein fix. This pit stop proves very successful as we stumble upon a well informed Irish gentleman out for a brist walk along the beautiful coast of Devon and Cornwall. He will treat himself to a beer in the café at the shop and he seems to be rather thirsty. But he still takes time to tell us about some things worth seeing very close by.
– There is a waterfall, gorgeous and very easy to miss, he says in a broad Belfast accent while trying to shake off the very persistent flying ants that wants to make their pit stop on his head and face. It is very spiritual, he continues. You just stop right when entering Tintagel. You will see it because there will be cars parked there on the street.
I make a mental note and can't wait to go and check this place out. But the Irish man continues.
– If you go to Tintagel, don't go to the castle. Too many tourists there and very exploited. Drive through the village, take left and go to Camelot, the hotel that is built as a castle. From there you will have a view and be alone.
With these tips we greatfully bid the man a lovely rest and head off.
The Irish man was right. If we had not known about the waterfall we would have missed it. He warned us there was a bit of a walk through the forest and right he was. It is not an easy walk but it is beautiful. Having been in the forests of Brasil I must say with the water flowing through like the veins pumping this forests heart and the ivy climbing the trees like skin protects our bones this forest isn't far from the deep tropical ones further south. With the heatwave that has hit UK the humidity isn't too far off either.
When we reach the destination it seems a few more knew of this so called secret. Kids, dogs and grown-ups make the otherwise spiritual and calm part of the forest feel like a busy Oxford Street. I admit, that is a slight exaggeration, but to me the forest has always been a very calm place where I am alone. I don't mind sharing this experience however. The "new path" to the waterfall is a bit contrived with brick-a-brac along the way. The "old path" is just the forest in its natural glory and something both me and my travel companion enjoys  a lot more.
After having a simple lunch consisting of sandwiches and crisps right by the fall we walk back to the car and head of to Tintagel Castle. We drive through the village and left, just like the Irish man told us. The view from the castle like hotel named Camelot, for rather obvious reasons, is stunning. We are almost alone on this side and can enjoy the full view of the cliff, the ruins and even a play as the powerful voices of the actors bounce between the cliffs. We know this will probably be out last top view so we stay for a while to take it all in before we head up north.
Along the way we decide that Salisbury is a good stop to spend the night before heading into London the next day. We take the road pass Stonehenge in the hopes of being able to get close enough despite it being closed at this time of the night. But being a few years since my company had been there, they had moved to new road to open the old one, making traffic pass it further away. In all honesty that is more suiting a historic treasure like this.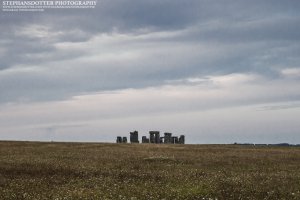 With the hotel is Salisbury we can check of "staying bove a pub" on our "to-do-list". As we wake up rather early we head off to Southampton before London. This proves to be the low point of the stay in England as the city is not quite what we had set our minds on for this trip. Due to being a victim of rather hard war not much of the charm is left in this harbour city that was the home of Titanic before she went under. We make our stay short and jump in the car to drive towards London and our last day in England.
My favorite shopping destination in London is Spitalfields Market by Liverpool Street Station. Today it is Thursday and that means the market is heavy on antiques. We are drawn to the taxidermy stall with the most strange, beautiful, morbid or whatever you like, creating can be found. The owner of Spitalfields Taxidermy (www.spitalfieldstaxidermy.com) tells us he is a bit hung-over after a really wet night but that he is happy to try and answer any questions we have. He tells us about the human skulls, the young kid's skull, the glass eyes and the other memories of lives lost.
After a long look at what Spitalfields have to offer we head off to Oxford Street and Selfridges to admire the beautiful window displays that is just one of the things this department store is famous for. If you are a sucker for British series and a lover of the beginning of the 1900's, then I suggest you watch Mr Selfridge, the series about the founder Gordon Selfridge and his life. The discretion of female make up and perfume during the beginning of the last century is but a distant memory as we now enter Selfridges or any other department store with perfume and make up front and center together with displays of underwear and other things considered inapprorpiate when our great grandparents were toddlers.
London is a great way to end our stay in England as we in the evening set the GPS to a hotel outside of Stansted to catch the early morning flight back to Stockholm.
In the car back from the airport I say:
– I need to go somewhere warm…
I am already planning my next trip despite the fact that I will only be home a couple of days before the next adventure going to Lofoten of a photo trip with my father. England has given me the taste for more, a lot more, as every trip does.
To sum it up, despite no murders in Thame, everything I have ever thought (and hoped for) regarding England was true. Cute villages, perfectly charming farm shops, extremely polite people, breathtaking landscapes… almost like a real fairytale. What can I say but RULE BRITANNIA!
A few other locations to visit if you are interested in movies are:
Wells – Hot Fuzz, The Libertine
Bruton – Chocolat
Gloucester – Sherlock, Alice Through the Looking Glass
Castle Combe – Stardust
Woodchester -Dracula
Montacute village – Sense and Sensibility, The Libertine, Elisabeth
West Somerset Railway – Miss Marple, A Hard Day's Night, "The Lion, the Witch and the Wardrobe", Poirot
Antony House near Torpoint -Alice in Wonderland (garden party scenes)
St Ives – Pirates of the Caribbean: On Stranger Tides

Text & photos: Therés Stephansdotter Björk